End-to-end recruitment management and information system
PRS SMS Messaging
SMS messaging (also called texting or short messaging) is a discreet alternative to direct phone calls that will save you time and money. As of PRS Version 6 the PRS has built-in SMS messaging.
Send text messages globally to candidate and client mobile phones directly from the PRS. Just click the goto button next to the recipient's mobile phone number and enter you message, it's that simple.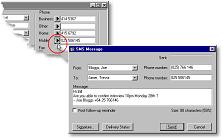 All SMS messages sent from the PRS are recorded in the shared PRS message store alongside email messages — all email and SMS messages sent from your the PRS are available in one place.
How to get up and running with PRS SMS Messaging
An Internet connection (you will almost certainly already have one).

An SMS Internet gateway account — the PRS supports the following SMS gateway providers (you only need to choose one):

Some SMS message credits — credits are purchased over the Web from you SMS Internet gateway provider's web site.
SMS Questions and Answers
How much does it cost?
PRS SMS licensing costs

See the PRS Price List for PRS SMS licensing costs.

See your respective SMS Internet gateway provider's web site for prices:
How does it work?
The PRS forwards your SMS message over the Internet to an SMS gateway server; the SMS server then routes your message to the destination cellular network.
What is the mobile coverage?
Most major international networks are supported; in New Zealand you can call Vodafone and Telecom networks — you'll find coverage details on your SMS Internet gateway provider's web site.